Beauty Sleep Anti-Acne Pillow Case
Fight breakouts and boost your glow as you sleep!
Description
Material
Instructions
The ultimate beauty tool to supercharge your skincare routine and fight breakouts while you sleep!
⚡ Fights Bacteria
Our world-first vegan beauty pillow case is treated with natural silver to eliminate 99.7% of bacteria linked to breakouts and topical skin concerns
☁️ Reduces Friction
Pamper your skin and hair with our ultra-fine satin silk weave, proven to reduce friction while you sleep for smoother, softer skin and hair
✨ Boosts Your Glow
Our silky, non-absorbent material keeps your skincare where it belongs (on your skin!) and prevents the loss of moisture from your skin and hair
Size: 66 x 50cm. Fits standard sized pillow. Contains 1x pillow case.

Vegan silk (100% polyester satin)
with Antibacterial Silver Ions (fabric treatment)
Use instructions:
Use in place of a regular pillow case to enjoy all of the amazing beauty benefits! Wash weekly
Care instructions:
To keep in peak condition for longer, wash inside lingerie bag on delicate machine cycle and air dry.
MALAYSIA'S FIRST ANTI-ACNE PILLOW CASE
Powered by Anti-Bacterial Silver Ions
The use of silver in medicine dates back thousands of years and scientists have long known that the metal is a potent antibacterial agent. Silver Ions work by punching holes in bacterial membranes, eliminating 99.97% of bacteria linked to breakouts and topical skin concerns.
Experience the difference
Bacteria naturally eliminated
Fewer clogged pores and breakouts
More breathable than cotton
Customer Reviews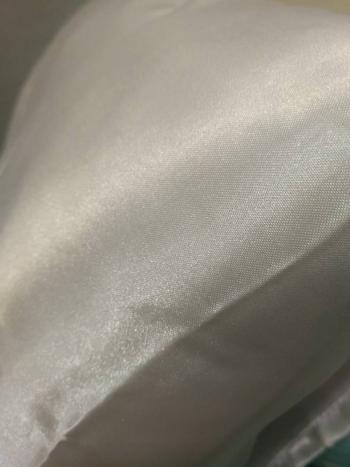 22/11/2022
I really like this pillow case
I really like this pillow case, especially its smooth silky texture that feels luxurious on skin contact. Also love the shimmery but muted hue, which looks really pretty
sehunooh227

Malaysia
22/11/2022
Feels luxurious
Always wanted a satin pillowcase but couldn't afford. this one is affordable and feels luxurious. hopefully it helps my skin too. fast shipping
Kevin L.

Malaysia
22/11/2022
Good benefits
Saw their IG ad on this product and decided to try, been looking for an affordable satin pillow case and this one has good benefits shown. I've used it for two nights and my hair is really less crazy in the morning! also skincare feels like absorb better. We'll see long term results.
Khaleesa

Malaysia
11/11/2022
Best purchase this year!
I've been using the Glow Gen Anti-acne pillow case for over a month now and my skin has never felt better. I haven't been breaking out and I've never seen my skin this good in EVER!
Izzati S.

Malaysia
12/10/2022
Super comfy
Used these pillowcases cause I get frizzy hair. Loving them for the antibacterial benefits and woke up without frizzy hair! They are also really comfy and stay cool.
Tiff

Malaysia