Cloud Covers | 36 Spot Patches
Protect, heal and reduce appearance of breakouts fast
Description
Ingredients
Directions
Gently extracts goo from blemishes, reduces redness and accelerates healing - plus looks cute while it's at it!
Cloud Covers are the gentle, moisture-drawing patches that absorb fluid and flatten blemishes to shrink pimples overnight. Available in two cute designs to boost confidence when unexpected blemishes strike, Cloud Covers make bad skin days a thing of the past!
⚡ Flattens and extracts fluid
⚡ Accelerates skin renewal
⚡ Protects blemish from fingers + bacteria
⚡ Extra sticky formula stays put all day
⚡ Sensitive skin friendly
☁️ Clouds: 100% Hydrocolloid
⭐ Stars: Hydrocolloid with Salicylic Acid
Apply to clean skin. For best results wear for 6-8 hours to allow the patch to work it's magic!
Cloud Covers | 36 Spot Patches
⭐ We're special
⭐ Our Salicylic Stars are Malaysia's FIRST cute medicated pimple patch!
☁️ Our Original Cloud patches are designed to be ultra gentle, and are pregnancy and eczema-safe!
💗 Both Cloud Covers are made from medical-grade hydrocolloid (the material wound dressings are made from) which helps accelerate healing and reduce inflammation
☁️ Good to know
• FDA Approved and CE-Certified
• 24 month expiry
• Suitable for all skin types
• Doesn't dry your skin out
• 36 patches per pack
• Extra sticky + extra gentle formula
• Our patches are biodegradable
💡 FAQ
How do I use the GG Cloud Covers?
• Cloud Covers adhere best to the skin when applied after cleansing skin and before applying skincare or makeup for best results
• Wear for 6-8 hours for best results. Many customers find them convenient to wear through the night (or through a day of zoom calls!)
• If you have popped a pimple, we recommend using an original Cloud Cover to speed up healing and reduce scarring.
Which Cloud Cover is right for me?
Original Clouds | Gentlest option
☁️ Safe for ultra-sensitive skin
☁️ Safe for eczema-prone skin
☁️ Can be used while pregnant
☁️ Can be used on popped blemishes
Salicylic Stars | Fastest option
⭐ Great for deep or stubborn blemishes
⭐ Can be used post-blemish to improve hyperpigmentation
Can I apply a Cloud Cover over a serum, spot treatment or retinol?
We don't recommend applying an additional product under your Cloud Cover as it is an occlusive dressing (meaning no air or moisture can penetrate in or out) which can intensify your skin's reaction to the product.
🛒 Shipping & Returns
We currently ship Malaysia-wide.
Orders over RM100+
Free shipping
Orders below RM100
RM5 flat rate

We want you to be fully satisfied with your order! We offer a 7 day guarantee period if you aren't happy with your purchase when it arrives.
See more details on returns here
Contact our Customer Care Team here
There's a Cloud Cover for everyone
☁️ Our gentlest patch | 100% Hydrocolloid
• Safe for ultra-sensitive and eczema-prone skin
• Can be used while pregnant
• Can be used on popped blemishes
⭐ Our quickest-acting patch | Hydrocolloid with BHA
• Great for deep or stubborn blemishes
• Can be used post-blemish to improve hyperpigmentation
Customer Reviews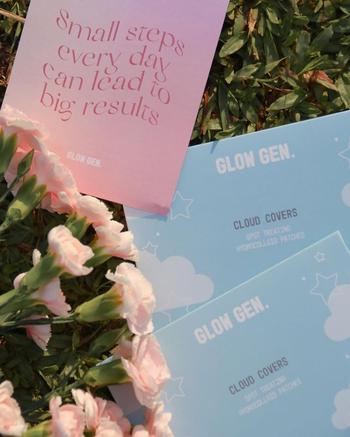 12/09/2022
The cutest acne patch I've ever had
No longer have face shame with the cutest acne patch on my pimples love it so much!! Definitely will buy again
Weng Y.

Malaysia
02/09/2022
Super cute
Adhesion of the patches were good. The cloud covers are better for flatter surfaces like face and forehead while the stars are better for more curved surfaces like around the nose and chin. Overall, these are super cute and a fun way to cover up acne and blemishes compared to traditional pimple patches. Recommended for all skin types
Halley

Malaysia
10/03/2023
Stars are great for pimples!
I have received and used a few patches and I would say the stars and much more adhesive compared to the clouds and they really **** the pus out of the active pimples!
Lana

Malaysia
20/12/2022
Holy Grail Of Pimple Patches
Now, this. This is the absolute best pimple patch I have ever used in my entire life, it is sooooooo goood! It actually sticks on all day even though I am out and about or stuck at work all day. It sticks around like a crazy ex boyfriend It also sucks out all the gunk out of my pimples without irritation. I absolutely loooooove this! <3
Ann

Malaysia
20/09/2022
The best and cutest patch
The cloud covers works best on my blemishes. Wore it before sleep and woke up free blemishes. Its very gentle on skin too!
Balqis

Malaysia
08/09/2022
Literally the cutest !!!
As for the Hydrocolloid Acne Patches, the design is absolutely adorable! It's so delicate yet helps to embrace my face while going out without even feeling embarrassed! Overall, I'm very satisfied by using glowgen's products! Will be continuing supporting this brand!
Ellfhea A.

Malaysia
31/08/2022
Super cute acne patches that work!
I love the Cloud Covers! Upon applying this acne patch, I can see a pimple of mine becoming less visible. Not too mention, they're sooo cute ❤️ You can match it up with cute pastel-ly makeup to go with it!
Reen R.

Malaysia
31/08/2022
MY NEW FAVORITE ACNE PATCH !
These cute pimple patches protect my blemishes from bacteria and also absorb fluid for quicker healing. It is also super gentle on my skin and super sticky , so it can stay all day/night Super thin and very comfy untill you will forget that it's on your face It really helps to heal my zits problem
Nur D.

Malaysia